What do you get when you combine coffee, creativity, and lots of idle time? A plethora of new consumer-driven DIY coffee recipes!
Just imagine, what will you get when combine creativity, coffee, and heaps of idle time? A Truck is full of new DIY coffee recipes, which can turn you into an Instagram sensation!
As the world shifts to edible entertainment and almost everyone has turned into a chef during the tough times of quarantines and social distancing, various food and drink patterns have taken over the gram and have turned viral. One such was, the oh so famous "Dalgona Coffee, a whipped drink whose Internet takeover started with YouTube videos out of South Korea. It's foamy and enjoyable to drink, its creation strangely satisfying to watch and I am sure we Indians have been having that for years now." With more opportunity to ace barista aptitudes, homebound customers are making coffee patterns during COVID-19. Everyone has now turned into an at-home barista. 
But, dalgona isn't the only type of tasty coffee that you can make at home. To help fulfill caffeine yearnings from home, we've compiled recipes for four promising COVID-19 isolate espresso trends. Prodded by a stay at home measures and a yearning for lattes and other premium caffeine drinks, here is how you can innovate these at home.
Here are four new coffee types to try while you are at home chilling and fighting the virus from a distance. 
Here are a few types of coffee that you can try at home:
1|
Coffee Gelatin Squares
Tools: Whisk, Bowl
Time: 10 Mins
Ingredients: Water, Coffee, Orange Gelatin Packet
Follow all the instructions written on the gelatin packet, and just replace the 1 cup water you add 1 cup hot coffee. Along with also add some flavor enhancers. You can add hazelnut, vanilla, or any other that you like. Pour gelatin into a dish and let it set in the fridge.
Serve alone or top with hand-shaken cream with vanilla, vanilla pudding, ice cream or chilled coconut cream.
2|
Stove Top Latte
Tools: French Press, Small Pot
Time: 15 mins
Ingredients: Fine-Medium Ground Coffee, Ideally High-Fat Milk (Such As Half-And-Half) Although Regular Milk Or Oat Milk Will Also Work, Sugar Or Flavor, Water
In A Small Pot:
Heat the milk slowly. Heat slowly, aim for 150-degrees, or until there's a sizzle on the sides of the pan when you swirl the liquids. Remember, time is your friend.
In A French Press:
Combine the coffee and heated milk with sugar. Plunge the filter of the French press for 10 seconds to get nice tight bubbles. Slowly pull the plunger out of the milk, then pour into your pre-heated mug.
3|
Cold Brew Sangria (Non-Alcoholic)
Tools: French Press Or Mason Jar, Filter (Metal, Paper Or Cloth)
Time: 1 Day
Ingredients: Coffee, Water, Honey Or Sweet Juice And Fruits And Juices Such As Berries, Stone Fruits, And Citrus Fruits
In A French Press:
Using the same ratio of coffee to liquid used for cold brew, combine coffee, cold water and a mix of the fruits you have on hand. Muddle the mixture to break the skins of the fruit and allow the juices to release. Let coffee mixture to steep overnight.
Use a metal, paper or cloth filter to separate the fruit and grounds from the liquid. There will be significant settlement. Discard the fruit and chill the liquid. Sweeten to taste with honey or fruit juice. Serve over ice. Garnish with an orange slice.
4|
Irish Coffee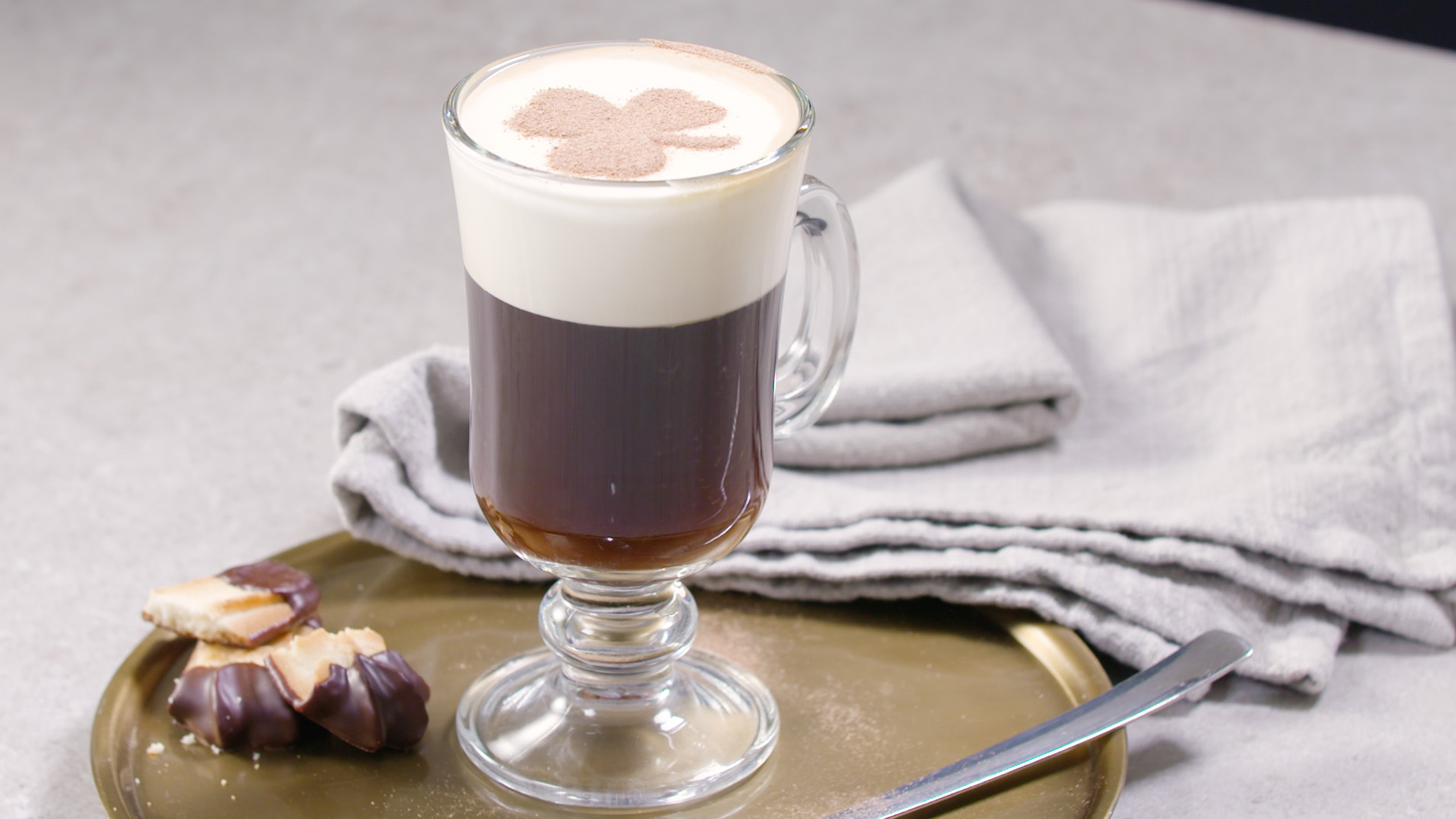 Tools: Small Mason Jar
Time: 10 Mins
Ingredients: Whiskey, Coffee, Water, Heavy Whipping Cream, Sugar Or DaVinci Gourmet Vanilla Syrup
Add To A Small Mason Jar:
About 1 cup of heavy whipping cream and 1 oz. of sugar or DaVinci Gourmet vanilla syrup. Shake for around one minute to combine. You will start to hear the sound soften as air is incorporated into the liquid. It should look like a milkshake and be light enough to float on hot coffee.
Add To A ¾ Full Mug Of Hot Coffee:
1 oz. of whiskey. Pour around 2 oz. of the heated cream on top of coffee. (Pour close to the coffee to encourage the cream to float.) Garnish with cinnamon or coffee grounds.
Now that you have few new coffee types to try other than your usual shake-shake coffee, post your pictures and feel like a sensation!