Arvind Kejriwal-led government imposed a "Special Corona Feed" WITH 70% tax on MRP (Maximum Retail Price) on all liquor brands. The revised prices have been made applicable yesterday onwards across the national capital, Delhi. This move by the government aims to collect more revenue flows in its depleting coffers due to the COVID-19 lockdown since March 24. 
Monday was a horrible day for Delhi. People who went outside to buy liquor seemed to ignore all social-distancing rules. From standing closer to avoiding wearing masks, people did not take pandemic seriously just to pacify their alcohol cravings. After experiencing such havocs on Monday, the Delhi-government has unleashed a new set of rules on Monday's late-night.
Here are 10 things that you should keep in mind before going out to buy some alcohol for you: 
1. Not all liquor shops are open
Out of 850 liquor shops, the government has allowed only 150 standalone shops to be operational during the lockdown.
2. How much can you buy
The sale of alcohol has been capped by the government. A customer can buy 9 liters and 1 beer case only.
3. Social distancing norms
To adhere to the social distancing norms, only 5 persons will be allowed outside the shop at one time
4. No liquor in containment areas
Liquor stores are prohibited to open in a containment area. There are more than 100 containment areas in Delhi.
5. Only standalone shops will be open
Alcohol shops that are in a mall or marketing complex are not allowed to open or sell liquor.
6. Specific timings
The Delhi authorities have issued an order that allows state-run liquor shops to operate from 9 AM to 6:30 PM in the city.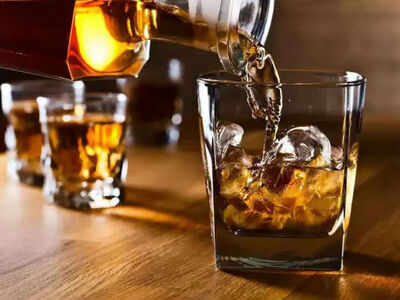 7. PPP (Personal Protection Protocol)
Not wearing masks is a punishable offence under existing laws. Hence, customers must adhere to the PPP to enter inside the liquor stores.
8. Special Corona Fee
70% tax will be levied as a "special corona fee". Here is a comparison between the old and the revised rates.
| | | |
| --- | --- | --- |
| Brands | Old Prices | Revised Prices |
| McDowells No. 1 | ₹ 370 | ₹ 629 |
| CHIVAS Regal 12 Years Old | ₹ 2,800 | ₹4,760 |
| Royal Challenge | ₹ 450 | ₹ 765 |
| Teacher Highland Cream | ₹ 1,500 | ₹ 2,250 |
Source:
livemint.com