Amidst the rounds of talks between Indian and Chinese commanders to resolve the panic between these two countries, the central government on Monday took a masterstroke and boycotted 59 Chinese apps. The list includes Tik Tok, Mi Store, Club Factory, and many other reputed Chinese apps. 
The step has been taken to engage in activities that are in alignment with integrity and sovereignty of India.
The apps that have been banned by the government are malicious apps that means these apps steal the data and surreptitiously transmit it to servers located outside India.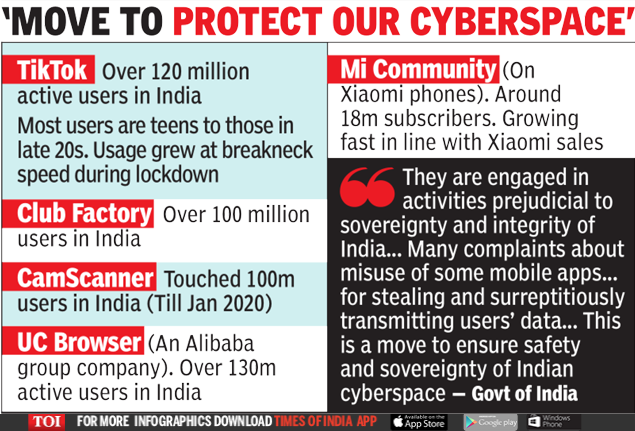 The Indian Cyber Crime Coordination Centre in the home ministry also suggested that these apps should be banned.
This initiative will protect the interest of crores of Indians. This decision is going to squeeze the Chinese economy and this will affect millions of dollars of revenue. Also, this movement is aligned with the sovereignty and integrity of India.
Modi and his government know that different countries require different treatments. The government has shown its dexterity to engage China on several fronts and smack China where it hurts the most. India is in a better position by taking such a serious step as India has a diverse range of retaliatory options. But Chinese companies will witness an erosion in their valuation eventually as 30-40% of the user base is from India.
Sources also claim that data was flowing to China even though some of the entities that apps have been blocked were notionally located in the USA or UK or other countries such as Singapore. After examining some of the cases of Tik Tok and other apps, investigation revealed that any microphone or network or camera were configured in such a way that use of any kind of data was not verified by Indian authorities.
With access to people's cameras, the apps can use other devices as well that are linked with other devices.
However, Tik Tok India Head, Nikhil Gandhi in one of his tweets mentioned that Tik Tok has not shared any information of Indian users with any foreign agency.
Here are the alternative mobile apps that you should install right away: